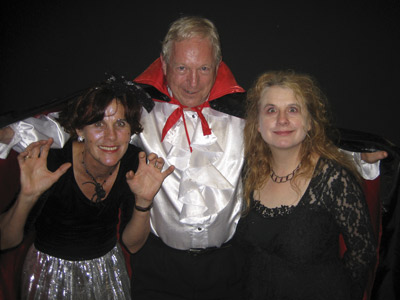 Charisma
Charisma was founded by clarinettist Roslyn Dunlop and cellist Julia Ryder in 1995 to explore and develop music for clarinet and cello. David Miller joined the group in 2003. The group has premiered many works and enjoys an international reputation for lively and virtuosic music-making, receiving critical acclaim for tours in Australasia and Europe. Programmes include works spanning four centuries and four continents.  Many composers from Australia, New Zealand, USA, Britain and Germany have written works for Charisma. They frequently conduct composer workshops, and are particularly keen to encourage emerging composers.  Charisma moves easily across all kinds of musical boundaries – from classical to blues, avant-garde to tangos, and minimalist to multimedia works. The marriage of styles has led to performances in unconventional venues such as jazz clubs, art galleries, bars and open spaces as well as traditional concert halls. Collaborations with musicians and organisations have led to concerts of eclectic repertoire, such as at the art exhibition  "State of Art Peace" where they  gave multimedia performances about human rights at Manly Gallery and then when the exhibition travelled to regional NSW in 2004. They frequently collaborate with other musicians to expand on the trio repertoire. With guest Violinist Chris Kimber they gave many performances of the Messiaen Quartet for the End of Time, in 2004 & 2005. Other guests have included Richard Pulley (violin) and James Kortum on flute. With violist Valmai Coggins they have given a number of performances of Moya Henderson's "G'day Africa" pieces.  They have recordings on CD and record for the ABC. A recording project featuring Australian women composers Kirsty Beilharz, Diana Blom, Wendy Suiter, Katia Beaugeais and Moya Hendson is due for release in CD in 2013.
Ros Dunlop, David Miller, Julia Ryder
Audio Excerpts:
Diamond Quills - Kirsty Beilharz

Trio – Louise Farrenc

G'day Africa - Moya Henderson

Ros Dunlop is one of Australia's leading clarinetists/bass clarinetists. She has been a strong advocate of new music for the clarinet & bass clarinet all her professional life. She has commissioned many Australian Composers and premiered many new compositions by composers worldwide. Ros has performed throughout Australia, New Zealand, Canada, the UK, Europe, Japan, Hong Kong, East Timor and the USA, Her CDs have received International acclaim. Ros is a founding member of Charisma, with whom she has commissioned and premiered many new works including many multimedia performances. In 2003 she embarked on an extensive project in East Timor, recording the traditional music of East Timor thus preserving it for future generations, her book published in 2012 Lian Husi Klamar, Sounds of the Soul ~ The traditional Music of Timor-Leste is the product of this research. Ros teaches clarinet at Sydney Conservatorium of Music.
Julia Ryder has earned a reputation as one of Australia's most accomplished performers. She has won various prizes for her interpretation of Beethoven and chamber music as well as for her performances at the Darmstadt Ferienkurse für Neue Musik. She has worked with composers such as Messiaen, Xenakis, Ferneyhough and Finnissy and has toured and recorded extensively as a soloist and with Australian and European ensembles and has appeared at major festivals in Australia, Asia and Europe. Julia records for ABC Classics, Etcetera records (Holland) and Virgin Classics. She is a founding member of Charisma and Michelangeli Ensemble. She teaches chamber music at the Sydney Conservatorium of Music.
David Miller is one of Australia's leading chamber musicians and vocal accompanists. The Sydney Morning Herald described him as "the role model of Australian accompanists. He has been awarded an AM for his services to Music. His distinguished career has included partnerships with many internationally renowned artists, Joan Carden, Marilyn Richardson John Pringle, to name but a few. He has performed with The Huntington Trio, Flederrman, The Song Company, The Australia Ensemble. He is a founding member of the Grevillea Ensemble. He has performed in the U.K, New Zealand, Indonesia, Japan, China, Saudi Arabia, New Caledonia, Korea, Vanuatu and Vietnam. He has recorded for Walsingham Classics, Tall Poppies, Vox Australis, 2MBS-FM and ABC Classics. David Miller is on the staff of Sydney Conservatorium of Music and is Chair Ensemble Studies.
COUNTRY TOURING
Charisma enjoys touring. Tours have taken them throughout NSW and Southern Queensland, even after long tours, the ensemble members still talks to each other and sustain their sense of humour – a trademark of their rehearsals! Their 2010 tour took them to Armidale, Tamworth, Towoomba, Stanthorpe and Grafton. Below is some audience feedback from that tour.
AUDIENCE Feedback
Thanks again so much to you, David and Julia for coming to Armidale!  Your concert was very well received here—lots of good comments still
Professor Jennie Shaw
Pro Vice-Chancellor and Dean
Faculty of Arts and Sciences
University of New England
Armidale
This is just a short note to thank you and David and Julie for the lovely concert you gave us recently.  We really enjoyed the programme and your obvious love and enjoyment in performing it conveyed itself to the audience, making it an enjoyable experience for everyone.
We've heard nothing but glowing reports from everyone who attended, so we hope you will come again one day!
Barbara Wigg – Inverell Musical Appreciation club
The experience was hugely beneficial for the students.
Please let me know when you are next intending to visit Armidale so we can organise another performance/workshop.
Nik Glass The Armidale School Armidale NSW
CD Reviews
David Sudmalis, Music Forum, Feb/March 2003:
"an excellent collection of performances superbly captured in the studio and rendered on disc … excellent balance, tone colour, space and spread make the disc a pleasure to listen to … I found the performance in Ingham's Frampton Elegy incredibly moving … Wesley-Smith's White Knight & Beaver … lost none of its personable humour, vitality and playfulness, and is expertly managed by Charisma … This disc would be a valuable addition to those interested in expert ensemble playing with a focus on the more accessible music written in the twentieth Century"
Diana Tolmie, Australian Clarinet & Saxophone, March 2003:
"Ros and Julia do justice to the composer (Hindemith) with their vibrant interpretation and particular attention to detail … Listeners can take pleasure in hearing the rich tones of Ros Dunlop on bass clarinet conveying the 'blue' mood … This oft-performed work (White Knight & Beaver) presents many issues of rhythm and tone colour difficultlies, I would have to suggest that this would be the best performance of the work I have ever heard. The interpretation is fresh and insightful ulitising the true essence of Lewis Carrol's Alice in Wonderland characters"
–
Charisma CD available directly from Ros Dunlop [rosdunlop@tekeemedia.com]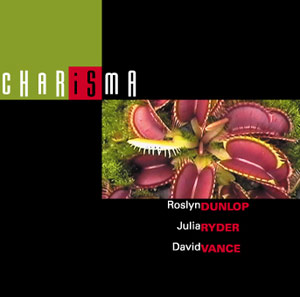 Ros Dunlop – clarinets
Julia Ryder – cello
David Vance – piano
Untitled – Paul Hindemith Musikalisches Blumengartlein und Leyptziger Allerley
Priere d'une vierge dans la Tonart mixolydique (A virgin's prayer in the mixolydian mode) – Paul Hindemith Musikalisches Blumengartlein und Leyptziger Allerley
Untitled – Paul Hindemith Musikalisches Blumengartlein und Leyptziger Allerley
Kanon zum Schiessen (Canon for shooting) – Paul Hindemith Musikalisches Blumengartlein und Leyptziger Allerley
Broken melody – Paul Hindemith Musikalisches Blumengartlein und Leyptziger Allerley
Marsch der Lowenreichswehr – Oberst W. gewidmet (March of the Lion King's artillery dedicated to Colonel W.) – Paul Hindemith Musikalisches Blumengartlein und Leyptziger Allerley
Lied (song) – Paul Hindemith Musikalisches Blumengartlein und Leyptziger Allerley
Die Gebetsmuhle im Schwarzwald, Charakterstuck (Prayer wheel in the Black Forest, character piece) – Paul Hindemith Musikalisches Blumengartlein und Leyptziger Allerley
Ein Tanzlein (A little dance) – Paul Hindemith Musikalisches Blumengartlein und Leyptziger Allerley
Verfranzt – Stephen Ingham
Frampton Elegy – Stephen Ingham
Tango From Tales of Love – Richard Vella
Duet – Richard Vella
Surface Tension number One – Howard Skempton
A Card for Lucy – Howard Skempton
Lullaby – Howard Skempton
White Knight and Beaver – Martin Wesley-Smith
CONCERTS & REPERTOIRE IN THE PAST FEW YEARS
* Australian Works
** * Premiere
** Australian Premiere
2012
October 28th
Chapter Hall, St Mary's Cathedral
Berger Trio Op. 94
Girard Les Noces D'Orphee **
Lorentzen Mambo **
September 2nd
Chapter Hall, St Mary's Cathedral
Kahn Trio in G Minor op. 27
Leighton Fantasy on an American Hymn Tune
Davidson Squaring the Circle *
Beaugeais The Last Flight of Saint-Ex *
April 1st
Chapter Hall, St Mary's Cathedral
Skroup Trio in Eb Op 27
Zemlinsky Trio in Bb Op. 3
Vella Tales of Love Suite *
2011
October 23rd
Chapter Hall, St Mary's Cathedral
Blanc Trio
Blom Fearless Dreams ***
Holmboe Trio **
Juan Three Minatures
Tiensuu Beat
August 21st
Chapter Hall, St Mary's Cathedral
Ingham Frampton Elegy *
Hartman Serenade
D'Rivera Danzon **
Schnyder Trio **
May 15th
Chapter Hall, St Mary's Cathedral
Amberg Trio Op 11
Brumby Chiaroscuro *
Ingham Verfranzt *
Muczynski Fantasy Trio *
D'Rivera Afro **
2010
October 24th
Sydney Conservatorium of Music
Wood Trio **
Vella Tales of Love a Suite *
Gorecki Lerchenmusik
August 29th
Sydney Conservatorium of Music
Suiter Clarinet Calling***
Barkl Here/Felicitations for the AMC*
Ingham Verfranzt *
Dixon Five Tastes*
Dunleavy Blue Spaces*
Wesley-Smith White Knight & Beaver*
May 30th
Sydney Conservatorium of Music
Beilharz Diamond Quills***
Henderson G'Day Africa I,II,III*
Farrenc Trio
2009
November 1st
Sydney Conservatorium of Music
Fruhling Trio
Walker Trio **
Engel Fantasy **
August 26th
D'Rivera Preludio y Merengue **
Baker Duo
Gould Benny's Gig
Ingham Triple Concerto *
Bailey New Work *
Lowernstern Drift
Wesley-Smith Merry-Go-Round *
May 31st
Sydney Conservatorium of Music
McCabe Sonata
Tata Duo
Frankel Pezzo Pianissimi
Ireland Trio
2008
October
Sydney Conservatorium of Music
Hill Miniature Trio in F *
Rihm Chiffre IV
Henderson G'Day Africa 1 *
Henderson G'Day Africa 11 *
Berger Trio
August 31st
Sydney Conservatorium of Music
guest James Kortum Flute
Beilharz Air-Earth-Water-Stars *
Ingham Triple Concerto *
Marsh Ferry Music **
Mellers Trio
Wesley-Smith db *
May 18th
Sydney Conservatorium of Music
Juon Trio Miniaturen **
Klemola What where **
Norgard Trio Op. 15
Tahourdin Trio *
Saariaho Oi Kuu **
March 30th
Sydney Conservatorium of Music
Farrenc Trio*
Glynn Whirlygig & Gorlywhorl *
Glynn Sarabesque *
D'Indy Trio
2007
October 31st
Tigers Leagues club
Wesley-Smith White knight & Beaver *
Chase Broken Reflections ***
Ryan Triple Witching **
Walker Salem Reel **
Ingham Hexentanz ***
Magnenensi Vanilla-die-scream **
Lipkis Rebel Angels **
September 2nd
guest artist Richard Pulley violin
Rota Trio
Dixon Mauve-Purple ***
Morricone Notturno
Banks Trio *
Krammer Cycles and Myths **
Frankel Clarinet Trio
Sunday May 27th
Sydney Conservatorium of Music
Kats-Chernin Why Not *
Tajcevic Seven Balkan Dances
Stutschewsky Hassidic Fantasy**
Houston Dunleavy Among the Thorns *
Brahms Trio
March 25th
Pitt St Uniting Church
Butterley Trio *
D'Indy Trio
Childs Trio**
2006
October 29th
Paddington Uniting Church
Guest Artist Chris Kimber violin
Wesley-Smith DB *
Hindemith Quartet
Muczynksi Fantasty Trio
September 27th
Tigers Leagues Club
Chase Broken Images ***
Westlake Onomatopoeia *
Ingham Black and Blue ***
Alves Mass Destruction**
Wesley-Smith Papua Merdeka *
Coyner Spiral***
August 13th
Paddington Uniting Church
guest artist Chris Kimber
Frankel Pezzi Pianissmo
McCabe Sonata
Dunleavy Postcards from America *
Raatgever Easily Persuaded***
Stravinsky Soldier's Tale
June 1st
Paddington Uniting Church
Vella Tales of Love a Suite *
Brophy Glove *
Ingham Elegy *
Zemlinsky Trio